There are a number of characters within Ava's Demon that Michelle Czajkowski included as tributes to her friends, or their characters. Additionally, cameos of real life contributors to the Book One Kickstarter were also added, as a pledge reward.
George Tinsley
The author, Michelle Czajkowski, is close friends with artist and illustrator, Maya Kern. Maya Kern runs a webcomic called Monster Pop! in which the main character is a cyclops girl named George Tinsley.
In the flashback to Gil's early days in TITAN's school, George is seen in a social gathering shortly before Gil notices Nevy for the first time. When Gil says to his friends that Nevy needs their help, George looks down and away from Gil, possibly in embarrassment over his seemingly odd actions.
George appears in several panels starting at Page 411
Fira Wajiha
Michelle has inserted many of her friends into the comic in one-off cameo appearances. Nami is one of them. Nami has drawn many pictures of Ava's Demon. She, herself, is an artist known by her fanart and original drawings. As she is also a friend of Michelle's, she received a character, just like Dana Guerrieri and Maya Kern. Nami's character insert is her original character, Fira Wajiha, which was based on herself. Numerous illustrations of Fira can be found on Nami's blog and her art blog.
During a livestream, Michelle said that Fira is a host to a demon, but is not one of the seven characters that she will be focusing on for the story. Fira's demon is named Aaraini Annisa.
Nami has explained the story of her character's creation in her blog. 'Fira's actually an oc I came up with and submitted to a forum post "Imagine yourself in the Ava's Demon universe" or something like that in the Ava's Demon forum about a year ago! Ironically I ended up developing my oc for my personal works as well, so that was nice and fun to know that my oc was getting recognition from Michelle's comic <3 She found the post and asked me if she could use it for random cameos, which I was totally cool with :3c So yeah Fira is my OC! (Honestly I'd never thought my oc would get that far in the story ahah!) [sic]'
The character is a classmate of Gil and Dana, studying on a school made by TITAN and the Followers for new students of their age. She is first seen during Gil's flashback to his childhood at the TITAN school. Recently, she made another appearance as a worker for TITAN who files paperwork for those applying to become soldiers, and is dating Gev Astraeus.
Percy Lang
Percy is another cameo from Maya Kern's Monster Pop! webcomic.
Percy Lang is a human character within the comic in which he attends college with George and other characters, such as his girlfriend Franny.
Percy appears on Panel 1397 of Ava's Demon in a scene where Gil and Maggie are in a waiting room with other followers of TITAN.
Gev Astraeus
Gev is a minor character in Ava's Demon and a follower of TITAN.
His first appearance in the comic was in a flashback to Gil's days studying to become a follower.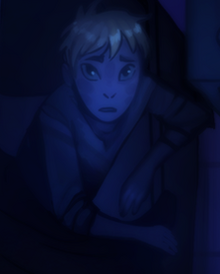 Gev used to share a bunk with Gil, and they would eat lunch together. Gev is later seen in chapter sixteen, handling paperwork in TITAN HQ Planet, with his partner, Fira. Gev doesn't recognise Gil initially, but after he remembers, he appears indifferent.
Gev's name wasn't created by Michelle, but instead friend and artist, Nami, the inspiration behind Fira Wajiha. On her blog, she writes, 'Gev originally did not have a name as he was also another random character Michelle came up with, but my friend Laura and I had grown to love him so we gave him a name, Gev Astraeus, and somehow fangirlled about the both of them together so much Michelle found out and made full use of it [sic]'
Maya Kern
Maya Kern is one of Michelle's friends that appeared in the comic in one-off cameo appearances. Maya Kern is the creator of Monster Pop! in which she commonly references Michelle's work. As such, Michelle does the same thing, referencing her comic as well as Maya Kern herself. Other references to Ava's Demon in Maya's webcomic include a monster version of Michelle, a college course book, a poster of Ava's Demon hung in the bedroom of the character Marina, and a Maggie cameo. On Tumblr, it is possible to view some pictures Maya drew of Ava's Demon.
The character is a childhood friend of Ava Ire and Maggie Lacivi, and appears on a flashback of Wrathia.
Initially, her character had the colored and shaped pupils of a host, but this was changed early on after fans posed theories about her.
Dana Guerrieri
Michelle has inserted many of her friends into the comic in one-off cameo appearances and Dana Guerrieri is one example.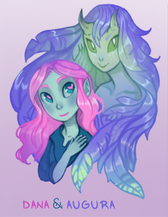 Dana Guerrieri has illustrated art of Ava's Demon and is a friend of Michelle's. Because of this, she has inspired a character. Dana Guerrieri is known by her drawings of her upcoming comic, Umbra Heart.
The character is a classmate of Gil, studying on a school created by TITAN and his Followers. She also appeared in the Kickstarter Campaign with her host and demon as a portrait example for a higher tier reward.
Merita
Michelle has inserted many of her friends into the comic in one-off cameo appearances and Merita is one example.
The character is introduced when Crow and Raven attempt to contact Olai. She appears to be a maid for the Arrow family, and refers to the twins as "Lady Ravenia" and "Lady Crowlie."
Kickstarter rewards
During the Kickstarter project for the release of Book One, a reward tier offered was a customized portrait of the backer in the Ava's Demon universe combined with a portrait of their demon. The backer's design would then appear in the comic some time after all the portraits were finished. The thirteen backers were rewarded with appearing as citizens or followers on TITAN HQ planet.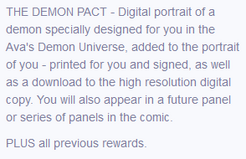 Gallery